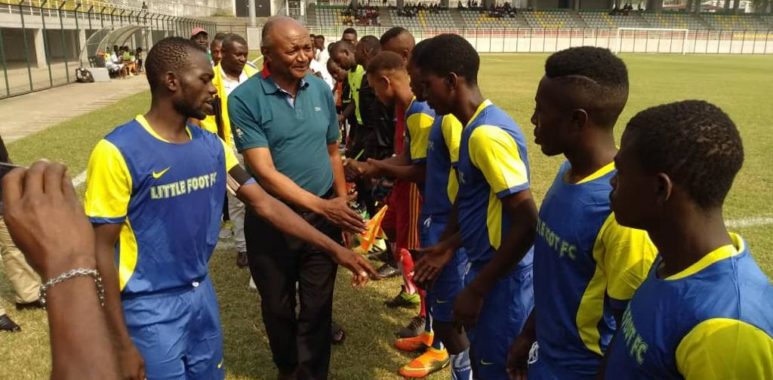 Youth Football Championship takes off from Fako and Wouri
The population of Fako division in the South West Region and Wouri in the Littoral Region on the weekend of Saturday 25 and Sunday 26 of January, 2020 watched with excitment the take-off of the National Youth Football Championship for the 2019-2020 football season.
In Limbe where the Secretary General of the National Youth League Kaham Michel watched the launch, Little Foot and Njalla Quan Sports Academy NQSA played the opening fixture ending in a one-one draw. Best Stars Academy on their part overpowered CINYODEV FA with a 3-0 defeat.
Talking to the press, Kaham Michel expressed satisfaction with the quality of football he had seen the youths play adding that it was time youth football takes off all over the nation. This he added will make the young people happy.
In the Littoral Region particularly in the Wouri Division, not fewer than 10 matches in the U-15 and U-17 categories were programmed to kick start the championship last weekend.
According to the results recorded in the U-15 category championship, Dauphine waved aside Espoir new-bell with a 7-1 defeat while St Julio outplayed Alyzee sport 2-1. EFBC on their part gave Amis de L'academie a 2-0 defeat. Three other fixtures initially programmed in this category could not take place and have been rescheduled.
In the U-17 category, the following results were recorded during the first day of play; St Julio 2-1 Alyzee sport, Authentic 2-4 Dauphine, Pathos 0-1 Réal Foot Academy, Eforca 1-0 Love, USD 1-0 AS Ngangue, Degrando 1-2 AS Njay sport and EFBC 15-0 Amis de L'academie.
Kaham Michel disclosed to the press in Limbe that the national youth championship is expected to kick off all over the country on February 15, 2020.
The National Youth football championship is an activity of the National Youth Football League created by the Cameroon Football Federation FECAFOOT in 2019 with the mission to provide competitions for young players in the country as a way of preparing them for future use by national teams.