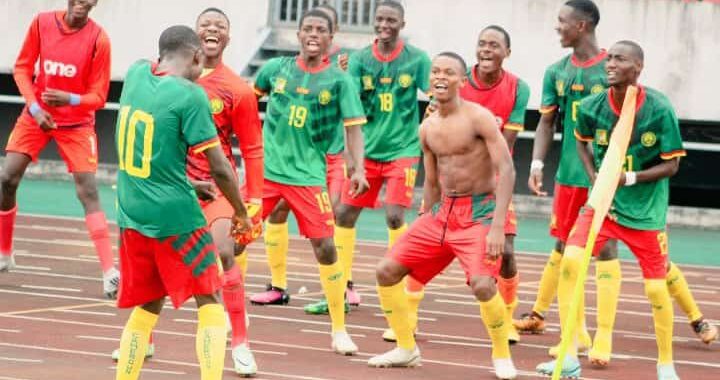 Actualité
LIONS U17
UNIFAC U17
UNIFFAC ZONAL QUALIFIERS : U17 LIONS QUALIFIED FOR THE 2023 AFCON
The Cameroon team beat Congo (2-0) on Sunday in the second match of the UNIFFAC Limbe 2023 tournament.
The match started at 3pm. The first twenty minutes were dominated by the Indomitable Lions who missed two to three clear scoring chances. Crosses from Harouna Djibrin were poorly exploited each time by Dorinel Yondjo Matah and Essono Dipanda. More scoring chances were created till the dying minutes yet no goal was scored. At half time, it was :
Cameroun (0-0) Congo.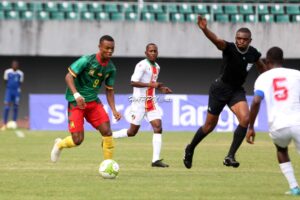 In the 2nd half, Coach Jean Pierre Fiala Fiala instructed his boys to insist on the offensive option so as to get atleast a goal. This is just what was done although no goal was gotten. At the 67th minute of play, Coach Fiala Fiala brought in two changes ; jerseys No11 (Abakar Aladji and No 21 (Abdel Ramane Mfonka) to substitute jerseys No 7(Tize Abib)and No 18(Essono Dipanda Dongo)respectively.
At 79th minute of play, jersey No 9 Dorinel Yondjo Matah benefitted from a triangular combination upfront to beat the Congolese shot stopper for Cameroon 1 Congo 0. The Lions needed to secure their win and that's why they fought extremely hard and got the second goal 4 minutes into the indicated 9 minutes of additional Time for Cameroon 2 Congo 0.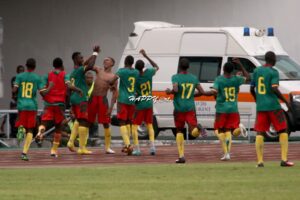 Coach Fiala Fiala brought in jerseys No 15 (Jules Mballa Biloa)and No 13(Maurel Amougou Olama) to substitute jerseys No 20 (Parfait Kegni Kegni) and No10 (Harouna Djibrin) respectively in a bid to consolidate the lead.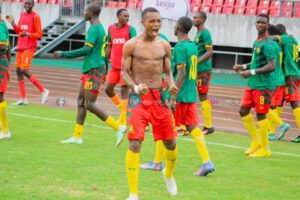 The match ended on a 2 goals to 0 win for the Indomitable Lions of Cameroon thereby opening doors for a qualification ticket for the next U 17 AFCON in Algeria. The head coach and team manager of the Indomitable Lions of Cameroon Rigobert Song and one of his assistants Augustine Simo joined the Lions in their dressing room to celebrate this Victory and qualification for the next U 17 AFCON in Algeria 2023.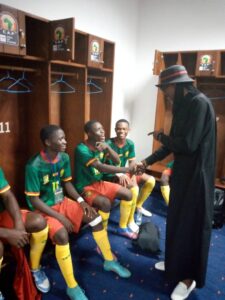 The Indomitable Lions end the competition on two wins in two games played with 6 goals scored with 0 goal conceeded.