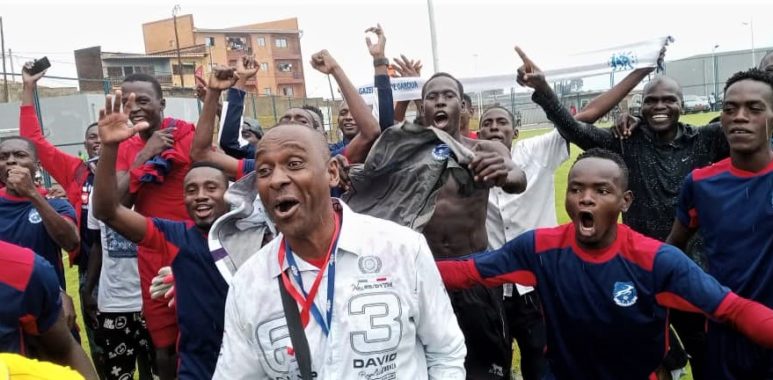 Actualité
Elite Two
FOOTBALL AMATEURS
INTERPOULES 2021
Gazelle FC qualifies for the Elite two championship
Gazelle FC of Garoua has qualified for the Cameroon Elite two championship, following their 2#1 win over Ebolowa FC, in a pool B game at the 2021 National Interpools.
Amadou Mahamat's early goal was cancelled out by Joseph Moussassa, but Hadji Issa Moustapha scored late to see the North Regional champions through, as they make it two wins in as many games.
AS IT HAPPENED
Ebolowa FC started the game on the front foot, with multiple onslaughts up front, though could not concretize the numerous chances.
Eight minutes into the game, Gazelle FC negotiated a counter attacking move, and forward Amadou Mahamat was in the other end to finish the action, and put his side one goal up.
Gazelle FC's Youssoufa Ismaël Ben, was the first player to be booked, when his 17 minutes tackle thwarted away Patrick Ndjana Fouda's offensive move.
Under pressure to find an equalizer before the break, Coach Henry Bayano of Ebolowa FC made two substitutions before the half an hour mark, with Patrick Ndjana Fouda and Alain Giresse Ekani ceding their spots to Christian Tkenfack and Joseph Moussassa respectively.
As the heavy downpour persist, Ashu Tambe Clevis and his teammates kept pressing hard, but we're denied time and again by goalkeeper Housseini Ousmaou and his solid back four.
HALF-TIME
Gazelle FC 1#0 Ebolowa FC
Amadou Mahamat (8 minute)
When both sides returned from the dressing room, it was an end to end contest, with several scoring chances squandered by both sides.
At the 59 minutes, Hadji Issa Moustapha had a glorious chance to extend Gazelle's lead, but failed to tap in from close range, after a well worked effort from pacy forward, Marius Kada.
Two minutes later (61), Marius Kada rattled the cross bar, as Gazelle kept the momentum.
Redemption came for Ebolowa FC at the 68th, when Joseph Moussassa got goalkeeper Housseini Ousmaou beaten for the first time in the competition, to draw the game level.
More substitutions for Ebolowa FC saw Albert Freddy Atangana coming on for Albert Junior Aba'a , while for Gazelle FC, Soulei Sanda replaced Youssoufa Ismaël Ben.
Just when Ebolowa FC thought they had secured a point, Gazelle charged forward via Duamel Boris Ekotto, who picked out Hadji Issa Moustapha. Moustapha beat his markers with pace, and slotted the ball pass Goalkeeper Marcel Zambo to restore Gazelle's lead, at the 85th minute.
Gazelle FC had won their first game against CPS of Bertoua, and are sure of finishing top of pool B with six points.
Ebolowa FC and CPS of Bertoua both have zero point each and Will face each other in the last pool B game on Friday, which is definitely a match of no stakes.