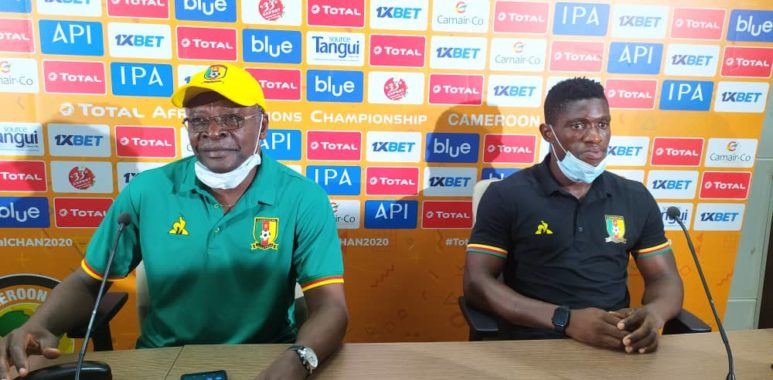 CHAN 2020 Semi-finals: Team Cameroon assures at pre-match press conference
The Coach of the Intermediate Indomitable Lions of Cameroon and goalkeeper Haschou Kerrido say the team is both mentally and physically ready for their Total African Nations Championship CHAN Cameroon 2020 semi-final match against the Atlas Lions of Morocco on Wednesday Febraury 3, 2020.
Martin Ndtoungou Mpile and his shotstopper were speaking on Tuesday February 2, 2021 during a pre-match presser at the Ngueme football complex in Limbe.
"Morocco is a good team that plays well. For any team to get to the semi finals it means they are good. That means the same for us too. I will not tell you how we plan to handle Morocco but our plan is to play the finals… The Yaounde and Douala public did fantastic job. I expect the people of Limbe to come and accompnay their team to victory." Coach Martin Ndtoungou Mpile said
"It is a spirit of serenity that animates everyone of us as we prepare for this game. We are no longer in the group stage where you can be looking at other considerations. Like the Quarter-finals, the semi-final is win or loose and be eliminated situation. We will put in every effort to be victorious against Morocco." Haschou Kerrido corroborated.
Cameroon takes on Morocco on Wednesday Febraury 3, 2021 at Ngueme football stadium in Limbe.