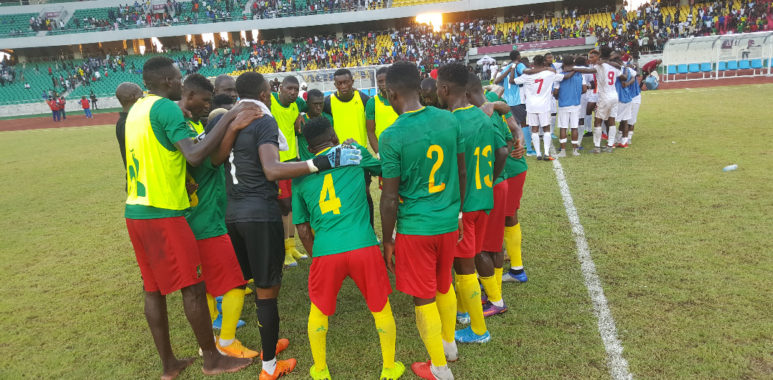 CHAN 2020 preparations: Cameroon draws with the Republic of Congo
Intermediate Lions have played a draw with their counterparts of the Republic of Congo. The game which ended with a 1-1 draw thanks to the 42nd goal by Akono Akono Alain for Cameroon and an equalizer for Congo during additional time by Mouandzibi Judea is part of preparations for the 2020 African Nations Championship CHAN.
The Thursday February 20, 2020 match offered Intermediate Lions Coach YVES CLEMENT Arroga to complete the testing of his 26-man squad which he took along for the friendly tournament in Congo.
During the post match press conference, the Intermediate Lions gaffer expressed satisfaction with the opportunity offered him by the Congo Friendly tournament organised by the Congolese Football Federation FECOFOOT to prepare his team for the African Nations Championship CHAN due for April in Cameroon.
"We are in search for the best and as you can see the players who played against DRC did not play today because we have to give a chance to all the young people to show what they can do. After the match we have to continue working because they are still some good players back home who still have to show us what they can do so as to ensure that this team can be a winning team." Yves Clement Arroga said.
The draw comes after a 0-1 defeat against the DRC on Sunday February 17, 2020. Cameroon thus returns from the Republic of Congo with four out of six points they had to play for.
The Intermediate Lions will take on their counterparts from Rwanda in the fourth international friendly on Monday February 24 at the Ahmadou AHIDJO stadium from 3:30pm.