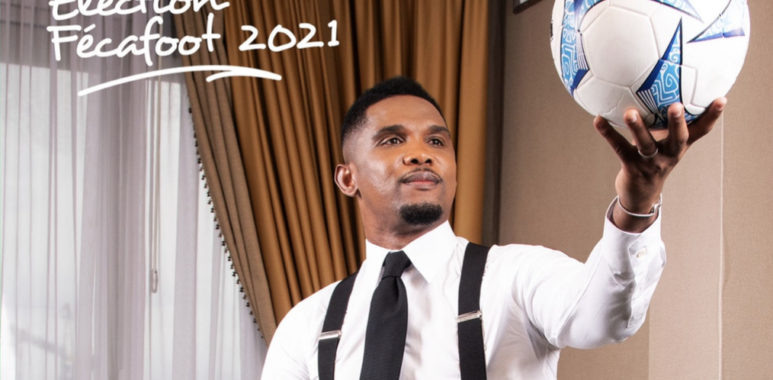 Samuel Eto'o Elected President
Legend Samuel Eto'o Fils is the new president of the Cameroon football governing body, FECAFOOT. The 40-year-old won resilient incumbent Seidou Mbombo Njoya at a tensely dramatic electoral exercise held on Saturday 11 December 2021 in political capital Yaounde.
Eto'o, record all-time scorer of his country – as well as the Africa Cup of Nations – grabbed 43 votes out of 74.
Ahead of today's much anticipated polls, fellow ex-Indomitable Lions Emmanuel Maboang Kessack, Jean Crepin Nyamsi and Justin Tagouh withdrew their candidacies to rally behind Eto'o. Zacharie Wanja and Jules Denis Onana, stood their grounds until elections day before throwing their towels to Seidou Mbombo Njoya's favour.
The former Barcelona and Internationale Milan star called time on his career in 2019. Before the football fraternity could ascertain Eto'o's football-governing ambitions, he has pulled off a remarkable achievement.
Prior to the elections, he promised to transform Cameroon football. While rooting for an administration that will give players, coaches and other key actors rightful places, Eto'o affirmed he would construct ten football facilities across the country in the next four years.
During his heydays, Eto'o won trebles playing for Barcelona and later Internationale Milan.
Having shot to the top of Cameroon football, Eto'o immediately switch attention to the preparations of the 33rd edition of the TotalErnegies African Cup of Nations kicks off in less than four weeks in his country.
President : Samuel Eto'o Fils
1rst Vice-president: Céline Eko
2nd Vice-président : Boubakari Bello
3th Vice- président : Arthur Djampir
4th Vice-président : Junior Njalla Quan
Executive committee members
– Abbo Mohamadou
– Soleil Roger Nyassa Nyassa
– Yoki Onana
– Guibaï Gatama
– Abdoulaye Abdoul Razak
– Abdoul karimou
– Stéphane Foko Kamga
– Daniel Mongue Nyamsi
– Joseph Feutcheu
– Norbert Kouedjou
– Safia Kwemo
– Nkou Mvondo
– Gilbert Yankam
– Félix Mbigha