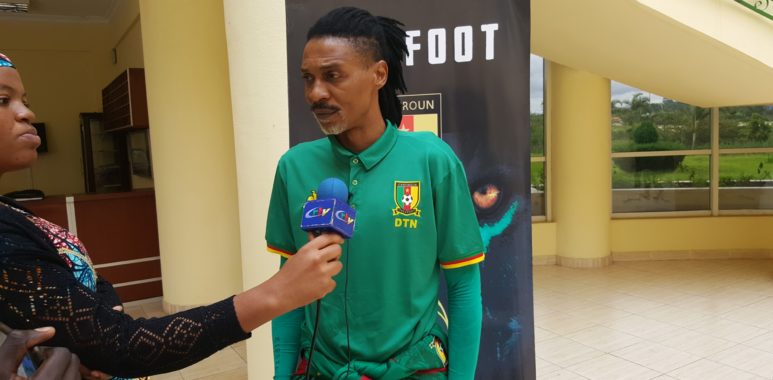 Rigobert Song: "Tataw Stephen is the true captain."
Longest serving captain of C ameroon's senior national team Rigobert Song has declared that late Tataw Eta Stephen "is the true captain" of the indomitable lions. The longest serving captain of the lions was speaking to fecafoot-officiel.com in Mbankomo just shortly after the death of the 1990 World Cup heroic performing captain Tataw Eta Stephen was confirmed by the Cameroon Football Federation FECAFOOT.
Rigobert Song who joined the just departed captain in the lions den for his first world cup to the United States in 1994 remembers late Tataw Eta Stephen as one who was disciplined, calm, animating yet very firm in decision making.
"I had a personal relationship with him. I feel very indebted to him. He was an emblematic captain. I had the opportunity to know and meet him during the 1994 World Cup and then I was young. I was with seniors who played with him in 1990. He greatly touched my life… he was modest and very present in the field of play and when I became captain I think I had the same spirit. He gave reason to spectators to want to watch matches. He was reserved yet very efficient. This is a major loss. When he called me captain I told you are the true captian . Man proposes and God disposes. May he rest in peace ." The sad looking Rigobert said.
The late Tataw Eta Stephen
Born on the 31st March 1963 in Ekona-Muyuka Subdivion Fako Division in the South West Region of Cameroon, the 1.8m tall Tataw Eta Stephen began his football carrier with Cammack of Kumba then moved to Tonnerre of Yaounde where he played from 1988 to 1991. He will later move to Olympic Mvolyé to play from 1992 to 1994. He joined the National team in 1988 and led Cameroon to their best World Cup historic performance to the quarter finals in 1990.
Though his trails at English league One side Queens Park Rangers and second tier sides club Brighton & Hove Albion, Tataw Stephen made a historic move to Japan in 1995 where he played for Tosu Futures. He will be Africa's first player to make such a move to a Japanese professional Club. His club will later fold up and any attempts to get a new club would not be fruitful then he retired. He will try to be the head of the National Team of Cameroon in 2018 but will not succeed.
He died in Yaounde on Friday 31st of July 2020 which was being observed in Cameroon as a public holiday due to the Muslim feast of the Sacrifice.